---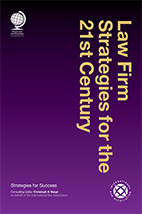 Consulting editor(s): Christoph H Vaagt on behalf of the International Bar Association
Publication date: Dec 2013
Format: Hardback
Pages: 252
Price: £98.00
ISBN: 9781909416161
Reviews
The book emphasizes the market and resource side of law firm management, pointing out new ways to look at, think about and carry out the right strategies with a view to staying a step ahead of competitors.
- Phillip Taylor MBE, Richmond Green Chambers
Each chapter is a stand-alone gem and yet a fully integrated part of the jig-saw, which becomes a beautifully illustrated pictorial sculpture, when all the chapters pieced together to form the unified whole.
- Pippa Blakemore BSc PGCE, The PEP Partnership LLP
Law firm partners have long resisted the notion that they need a strategy. However, markets change and the landscape has become increasingly competitive. Law firms that want to remain competitive need to think about and engage in strategy development; those firms which have done so are now undeniably in a better position than those which have not.

Published in association with the Law Firm Management Committee of the International Bar Association, this practical title is the first in Globe Law and Business's series on the business of law dedicated to exploring strategic development in law firms. It includes contributions from leading academics, consultants and law firm partners who share their insights and experience in strategy development and management. The content is organised around the market and the resource side of law firm management, and offers new ways to think about strategy and how to discuss it in the context of a partnership.

Whether you are a managing partner of a small, large or international law firm, this book offers points of views which have never before been aggregated in a single volume. The book may also be helpful for consultants and academics in developing research in this area. This volume addresses in a most practical manner those questions which are of relevance in today's law firm management.