---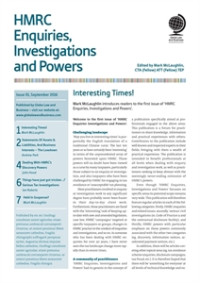 Editor: Mark McLaughlin
Issue date: Nov 2017
Format: Journal
Frequency: Monthly
Price: £175.00
ISSN: 2398-7456
Description
HMRC has an increasing range of powers, which have been further enhanced with each successive Finance Act. The trend is likely to continue, and at any one time, the average tax practitioners will typically have a number of their clients under investigation. These might range from enhanced scrutiny of a self assessment form, to full-blown criminal investigation. As with most areas of tax work, investigations can span back over several years, can be complex, and will last for up to a year.
This new newsletter is the only publication aimed specifically at professionals involved in HMRC enquiry and investigation work, ranging from accountancy practices with clients under enquiry to specialists in HMRC criminal investigations into tax evasion. Contributors include investigations specialists from many of the leading firms, and from HMRC.
Click here for our special offer for ICPA members
Note that your subscription will start with the current issue.
Existing Subscribers
You may renew your existing subscriptions here by quoting your Renewal/Proforma Number and the corresponding Access Key as shown on the invoice.