---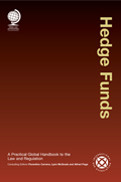 Consulting editor(s): Florentino Carreno, Cuatrecasas, Goncalves Pereira and Lynn McGrade and Alfred Page, Borden Ladner Gervais
Publication date: Sep 2012
Format: Hardback
Pages: 407
Price: £180.00
ISBN: 9781905783793
Wherever they are established, the reach, influence and impact of hedge funds on companies and economies are global in nature. Understanding the interaction of the legal and regulatory frameworks that impact on hedge fund operations has become critical for hedge fund sponsors and managers, service providers and stakeholders.
This practical handbook outlines key trends in the global hedge fund industry, including latest structuring and governance models, as well as operational, litigation, enforcement and key regulatory initiatives in the European Union and United States. The book also features an in-depth analysis of the law and regulation of hedge funds in a number of leading jurisdictions. Each country chapter follows a detailed template for ease of reference for the reader.
Written by expert hedge fund lawyers and industry service providers - from Borden Ladner Gervais, Sullivan & Cromwell, State Street Global Services and White & Case, among other leading firms - this title provides up-to-date analysis and helpful, practical tools for participants in the hedge fund industry.