---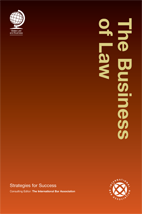 Consulting editor(s): The International Bar Association
Publication date: Mar 2012
Format: Hardback
Pages: 173
Price: £124.00
ISBN: 9781905783618
Reviews
For anyone starting up a new practice, venturing onto the management side of law or simply interested in contributing more effectively to the growth of their own firm, The Business of Law is an invaluable and highly insightful guide.
- Catriona Watt and Ronnie Fox, Communications Officer, IBA Young Lawyers' Committee; Immediate Past Chair, IBA Senior Lawyers' Committee
The book is a compilation of essays by leaders of well-known major law firms and a smaller number of those who advise such firms. The lessons taught are borne out of experience and the book is a highly practical guide.
- Frank Maher
This book will inform and inspire those striding from management to leadership; finally it will enable those already in positions to confirm what they are doing is correct and to keep them persevering on the path that they have chosen.
- Pippa Blakemore, The PEP Partnership LLP
This publication should be of practical interest to managing partners, heads of departments or lawyers seeking to build their client base and contribute to the growth of their firm.
- PLC
It is a pragmatic guide that analyses the impact of the financial crisis and demonstrates that maintaining a solid base built up with marketing and PR can develop the client base and contribute to growth.
- The Global Legal Post
Receive 50% discount today: enter 'SALE2019' at the checkout
In the current climate, it is vital that practitioners are aware not just of legal developments, but also of how to sell their expertise in a crowded market place.

This high-level title, published in conjunction with the International Bar Association (IBA), brings together the expertise of IBA members and experienced practitioners to produce a practical guide to law firm management and building a successful business.

This title is about contributing to the growth of a firm; since growth means higher profits, and everyone can both contribute to and benefit from this; rather than on law firm management. It is a pragmatic guide rather than an attempt at crystal ball gazing, and examines issues ranging from the impact of the financial crisis on law firms to marketing and PR, the challenge of internationalisation, how to grow a law firm and governance. The book features chapters from leading international practitioners and experts, including Stephen Denyer from Allen & Overy, Professor Carole Silver from Indiana University Maurer School of Law and Sean Twomey from Norton Rose.

The book will be of practical interest to any lawyers who are looking to build their law firm; whether they be managing partners, lead partners in a department or lawyers seeking to build their client base and contribute to the growth of the firm.