---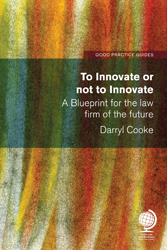 Author(s): Darryl Cooke - gunnercooke LLP
Publication date: May 2019
Format: Softback
Pages: 183
Price: £65.00
ISBN: 9781787422483
Reviews
Its accessible style highlights the innate challenges to overcome and introduces the right solutions for a law firm to shed century-old thinking, question routines and make a real difference, whilst maintaining the very best of its profession's heritage.
- Colin Turner, CEO Mentor, Entrepreneur & Author of A Brave New Business World
A wake-up call for law practices.
- Julian Richer , Entrepreneur, Author, Philanthropist
This very readable and thoughtful work pulls together many strands of what makes for effective law firm management and leadership in times of huge change. Its call for a sense of urgency, yet with a sense of realism about the pace with which firms can change, is timely. It covers the basics of communication, culture and the disciplines necessary for the effective execution of any strategy.
- Charles Martin, Macfarlanes LLP
Cooke rightly concludes that the management of law firms is "an awesome responsibility" because management decisions don't just impact those who work at the firm – those decisions also impact their families and friends. Sprinkled throughout the stories, discussions and facts supporting why and how firms can evolve, are many insightful (and for law firms, revolutionary) Cooke-isms.
- Mitchell Kowalski , Strategic Advisor on Legal Operations and Author
Innovation should be at the heart of the strategy of every law firm. It drives the competitive advantage that a law firms needs not just to set itself apart from its competition but also to survive. The purpose of strategy is to understand and cope with competition. Innovation and creativity are core to that strategy. Competitive advantage impacts your bottom line. It answers your clients' key questions of 'Why should I do business with you?' 'What are you offering that no one else does?' Innovation is key to answering these questions.

This book will show you how to reinvent yourself to create a culture that encourages and spawns innovation at every level, both on the micro and macro levels. It leads you through the creation of the infrastructure that is necessary to encourage creativity and that is unique to law firms as well as setting out the creative process to produce new thinking. It deals with leadership, handling change, communication, culture, teamwork and accountability that will lead to real and necessary innovation.
The author, Darryl Cooke, is co-founder of gunnercooke, one of the UK's fastest-growing challenger law firms.